Chapter 5, Computing with Register Machines
Exercise 5.3
---
Data flow diagrams
In the second diagram, I have used several registers to store intermediate results. Even one register can suffice instead of multiple such registers because each such register is used one at a time. However, it was causing some clutter in the diagrams. So I used multiple temporary registers for demonstration.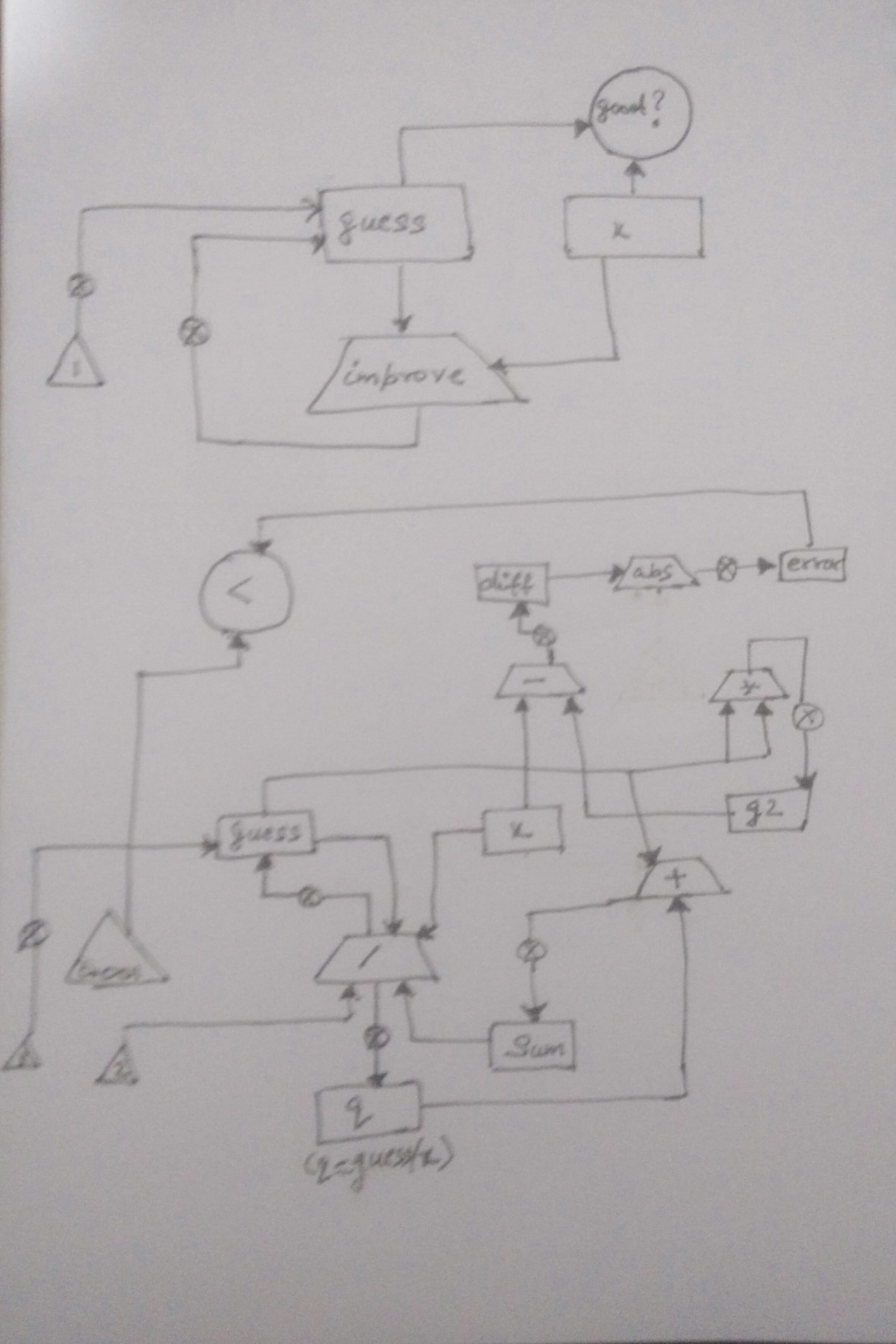 ---
Controller Definition
Assuming good? and improve are primitive operations.
1
2
3
4
5
6
7
8


(

controller


 

(

assign

 

guess

 

(

const

 

1

))


 

loop


   

(

test

 

(

op

 

good?

)

 

(

reg

 

guess

)

 

(

reg

 

x

))


   

(

branch

 

(

label

 

done

))


   

(

assign

 

(

op

 

improve

)

 

(

reg

 

guess

)

 

(

reg

 

x

))


   

(

goto

 

(

label

 

loop

))


 

done

)



Expanded versions of improve and good?:
1
2
3
4
5
6
7
8
9
10
11
12
13


(

controller


 

(

assign

 

guess

 

(

const

 

1

))


 

loop


   

(

assign

 

g2

 

(

op

 

*

)

 

(

reg

 

guess

)

 

(

reg

 

guess

))


   

(

assign

 

diff

 

(

op

 

-

)

 

(

reg

 

g2

)

 

(

reg

 

x

))


   

(

assign

 

error

 

(

op

 

abs

)

 

(

reg

 

diff

))


   

(

test

 

(

op

 

<

)

 

(

reg

 

error

)

 

(

const

 

0.001

))


   

(

branch

 

(

label

 

done

))


   

(

assign

 

q

 

(

op

 

/

)

 

(

reg

 

x

)

 

(

reg

 

guess

))


   

(

assign

 

sum

 

(

op

 

+

)

 

(

reg

 

q

)

 

(

reg

 

guess

))


   

(

assign

 

guess

 

(

op

 

/

)

 

(

reg

 

sum

)

 

(

const

 

2

))


   

(

goto

 

(

label

 

loop

))


   

done

)



Notice that all the temporary registers g2, diff, error, q, sum can be replaced with a single temp register t:
1
2
3
4
5
6
7
8
9
10
11
12
13


(

controller


 

(

assign

 

guess

 

(

const

 

1

))


 

loop


   

(

assign

 

t

 

(

op

 

*

)

 

(

reg

 

guess

)

 

(

reg

 

guess

))


   

(

assign

 

t

 

(

op

 

-

)

 

(

reg

 

t

)

 

(

reg

 

x

))


   

(

assign

 

t

 

(

op

 

abs

)

 

(

reg

 

t

))


   

(

test

 

(

op

 

<

)

 

(

reg

 

t

)

 

(

const

 

0.001

))


   

(

branch

 

(

label

 

done

))


   

(

assign

 

t

 

(

op

 

/

)

 

(

reg

 

x

)

 

(

reg

 

guess

))


   

(

assign

 

t

 

(

op

 

+

)

 

(

reg

 

t

)

 

(

reg

 

guess

))


   

(

assign

 

guess

 

(

op

 

/

)

 

(

reg

 

t

)

 

(

const

 

2

))


   

(

goto

 

(

label

 

loop

))


   

done

)



---